Behold!  In our latest post, we've taken a pass at categorizing every major type of attraction or amusement facility in the world.
What follows is a field guide of sorts for planners, consultants, and designers when considering potential anchor tenants, partners, or developments in entertainment-oriented master plans.  These types all have the characteristic that they can be standalone facilities, although hybrids and mixes of the following are quite common.
Why would we do this?
In master planning or tenanting exercises, we're often asked to present a concept palette of theme park and amusement types.
Well, here it is.  And while the list may not be 100% comprehensive, we're confident that we've hit at least 90%+ of the attraction types out there in the wild, on planet Earth.  If we haven't, we're also sure that our sharp-eyed readers will email us right away with comments and suggestions.
Skip on ahead if you're impatient to view the list, otherwise we'd like to lead with some general comments and observations.
There are massive size differences between the types that are not very well-communicated through text.  Refer to the chart below for that.
One defining characteristic that defines the parks and amusement facilities below is the distinction between projects that simply try to push visitors through their gates (what we call a throughput-based model), or ones that are more limited in their capacity, and are characterized by timed, or turn-based rounds.  For examples of the latter: indoor role play parks usually operate in shifts, and VR, go kart, or indoor skydive attractions charge by the 'turn'.

A second defining characteristic is the business model.  Behind the scenes, many wildlife attractions, museums, gardens, factory tours, waterplay, and even certain categories of indoor theme parks are actually nonprofit operations, and are either subsidized by governments and corporations, or rely heavily on donations and grants for sustainability.  Elsewhere, certain attractions rely more heavily on overnight guests spending on accommodations, rather than on tickets.  Understanding the business model behind these attractions is key for planning and development, and properly aligns expectations.  A simple tearsheet is available below.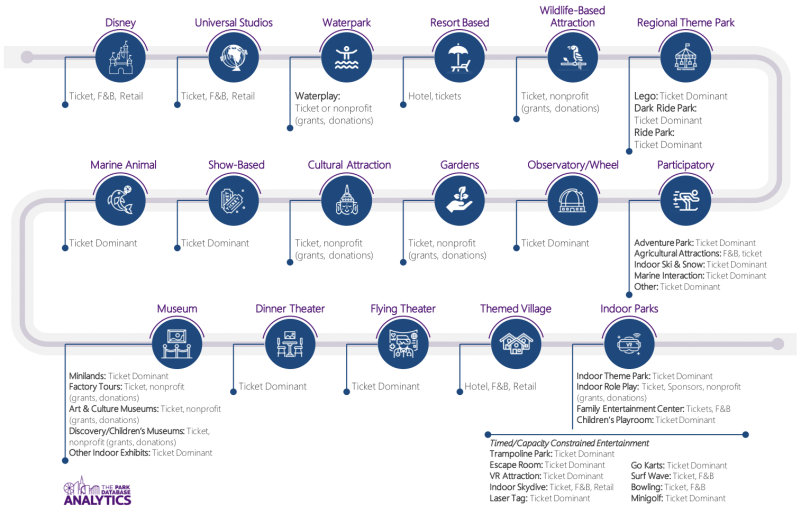 Table of Contents
Mega Theme Park
Disney
Universal Studios
Waterpark
Waterplay
Regional Theme Park
Lego
Dark Ride Park
Ride Park
Indoor Park Formats
Indoor Theme Park
Children's Role Play
Family Entertainment Center
Children's Playroom
Capacity Constrained/Timed Entertainment
Trampoline Park
Escape Room
VR Attraction
Surf Wave
Laser Tag
Go Karts
Indoor Skydive
Bowling
Minigolf
Resort Based
Marine Animal
Show Based
Cultural Attraction
Participatory
Adventure Park
Agricultural Attraction
Indoor Ice, Ski & Snow
Marine Interaction
Other
Gardens
Wildlife-Based Attraction
Museum/Exhibit-Based
Minilands
Factory Tours
Art and Culture Museums
Interactive Museums
Other
Observatory/Wheels
Flying Theater
Dinner Theater
Themed Village/Retail Entertainment
---
Mega Theme Park
Outdoor, top-tier theme park usually characterized by some IP and international scale.  These are the costliest parks, usually at least $1 billion in cost, and funded by public subsidies of some sort, municipal partnerships, or sovereign wealth.
As with anything, results vary, but targeted attendance is usually at least 3-5 million to breakeven.  Examples include Disney, Universal Studios, Warner Bros Abu Dhabi, Ferrari World.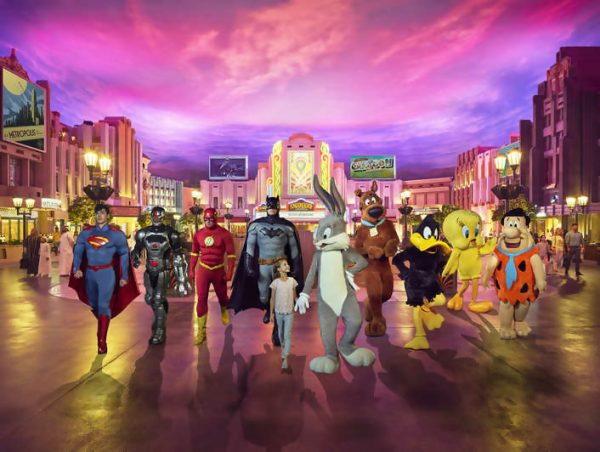 Disney
The Disney blueprint is a highly themed environment with interaction with its vast universe of media properties, including Pixar, Star Wars, and Marvel.  Rides and attractions are family-oriented, rather than thrill-based, and dark rides are the norm.  Focusing on its attraction mix does not do the park justice, because as much investment and deliberation is invested in its landscaping and environmental theming as in the attraction hardware.  The gold standard in theme parks along all metrics, from profitability, recognition, sustainability, and design.
Characteristic of Disney parks is their ability to earn revenues from ancillary segments such as merchandise and food and beverage – which are often on par with, and sometimes greater than, revenues from ticket sales.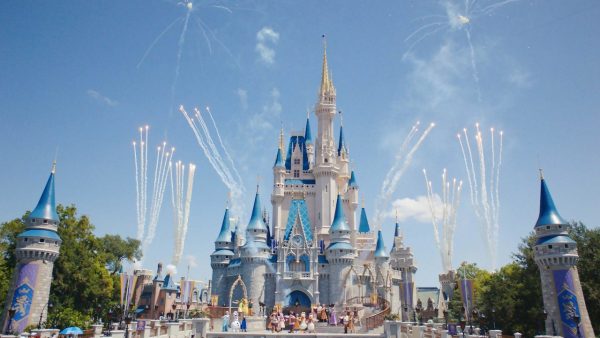 Universal Studios
The Universal Studios blueprint is also based on its various media properties, but with an emphasis on dark rides and shows.  The indoor nature of its attractions allows full control over environmental and climate, and creates a level of cinematic immersion unparalleled at other parks around the world.  Along with Disney, the largest and highest attended parks in the world.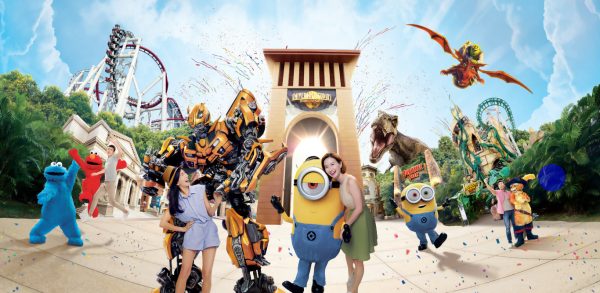 ---
Waterpark
Parks based on rides, slides, and pools.  Usually seasonal operations in most parts of the world because of their nature, can also be partially or wholly indoor to offset seasonality.  Highly engaging, kinetic experiences.  In many parts of the world, especially the Americas, smaller waterparks are municipal-operated enterprises and an extension of public pools.
Well-known examples include Chimelong Waterpark, Caribbean Bay, Waterbom Bali, Blizzard Beach, Volcano Bay, among hundreds of others.  Revenues are typically from ticket sales, along ancillary revenues such as F&B, rentals such as cabanas and equipment, and retail sales are important.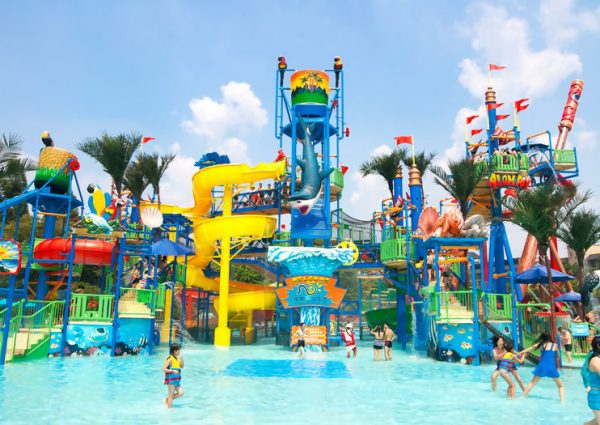 Waterplay
Smaller versions of waterparks, located in patio areas of malls, on park common grounds, and or other municipal facilities.  Cannot quite be classified as waterparks because of their sheer (low) number of attractions, but because of their smaller size, are commonly maintained as amenities by mall operators or municipalities – not as profit-generating enterprises.  Sometimes are operated as free access amenities, rather than gated attractions.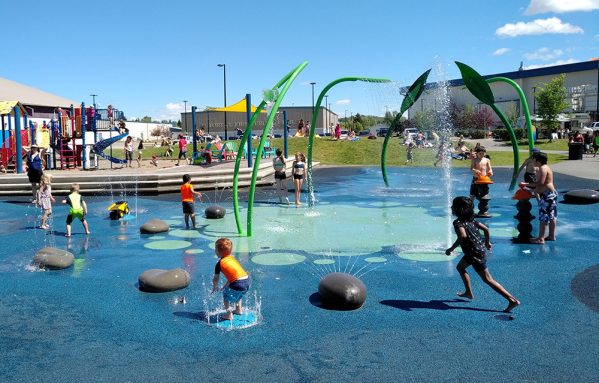 ---
Regional Theme Park
Theme parks that are not the largest internationally, but among the largest in their region, state, or overall market.  Some may not be well-known outside of their home countries, but are usually among the largest in their countries.  Sometimes, these amusement parks are hybrid amusement park/waterpark operations with slides and raft rides co-located with more traditional amusement park facilities.
This is not a precise definition, but we are drawing a distinction between the largest parks in the world – Disney and Universal Studios – and the next tier of parks.  Typically cost in the hundreds of millions, rather than billions of dollars.
Lego
Perhaps this category's pre-eminent example, Legoland theme parks are amusement parks designed around their universe of minilands and minifigures.  A mix of attraction types, from rides, exhibits, to exploratory areas, define this type.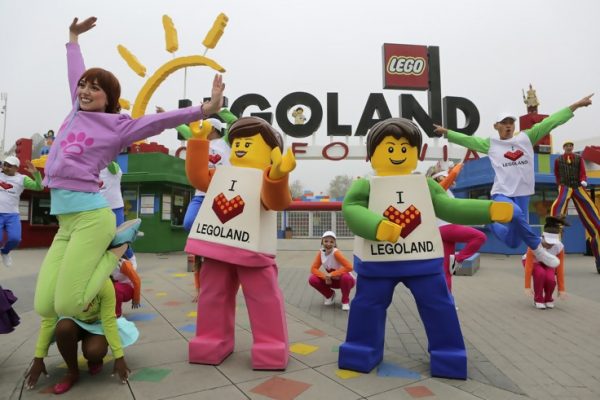 Dark Ride Park
A variation of theme parks where most of the rides and attractions are located in indoor buildings, in controlled environments.  These are still outdoor theme parks, but have the majority of their facilities scattered throughout the grounds in themed, warehouse-like shells.
Because the indoor orientation of the attractions allows for greater control over the environment, these parks tend to emphasize shows, and media-based attractions and experiences.
Examples include Futuroscope in France, the Fantawild chain in China, and Movie Wonderland in Changchun, China.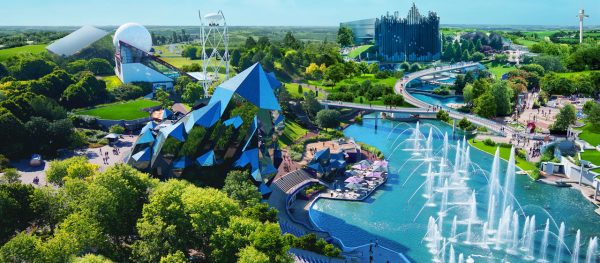 Ride Park
This is the most common type of outdoor theme park and belies the whole amusement park's origins in carnivals and funfairs.  Characterized by some theming, in some cases, but a mix of rides, games, and attractions.  Some are seasonal operations, and many are on the pay-per-play model, with individually and separately charged rides or attractions.  Theme park chains such as Six Flags, Cedar Fair, or Happy Valley in China can be characterized as ride parks.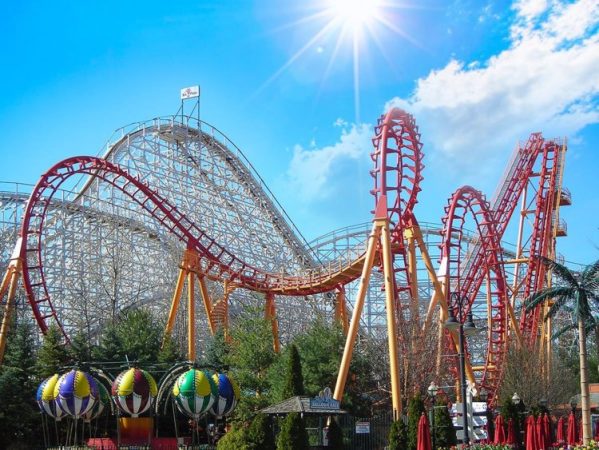 ---
Indoor Park Formats
Indoor Theme Park
Literally, theme parks that are indoors instead of outdoors.  Usually appropriate for markets experiencing inclement climates, whether extremely hot or cold.  The indoor nature of the experience allows for various degrees of environmental control, but the cost of constructing the shell must be balanced with access to a deep local and/or tourist market.
These are typically larger than family entertainment centers (below), which emphasize arcades, and at the level of, or slightly smaller than regional theme parks.  Unlike FEC's, this type usually retains most of the elements of typical theme parks – rides, shows, exhibits, and other attractions.
Examples include Lotte World in Korea, or Trans Studio in Indonesia.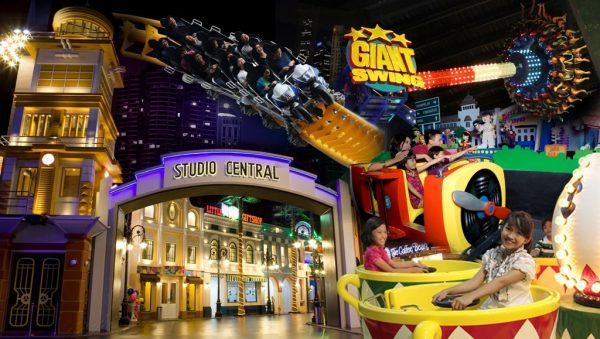 Children's Role Play
Indoor 'cities' or environments for children that provide an immersive experience of "playing grown-up".  Exhibits and pavilions provide hands-on craft, game, or play activities based on different occupations.
The largest examples of this type are Kidzania, Kidzmondo, and Kidzcity brands located worldwide, but homegrown and smaller examples exist in abundance, and based on a variety of models.  Kidzania is notable for its significant reliance (~30%) on sponsorship revenues, but non-profit variations such as Pretend City in Orange County exist, as do more admissions ticket-reliant models, such as Baby Boss in Taiwan.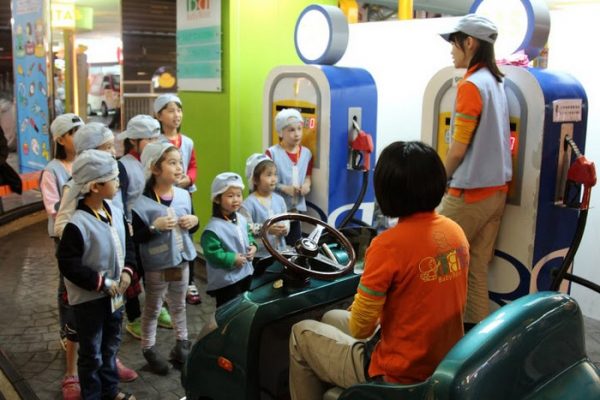 Family Entertainment Center
Lines are blurry between this type and others, but typically, arcade and redemption games characterize this type.  They may also combine additional elements such as small rides or timed entertainment options like bowling or trampolines, as below, but games and arcades act as the 'people eaters' soaking up most of the capacity.
Examples of this type include Dave & Buster's or Chuck E. Cheese's in the United States.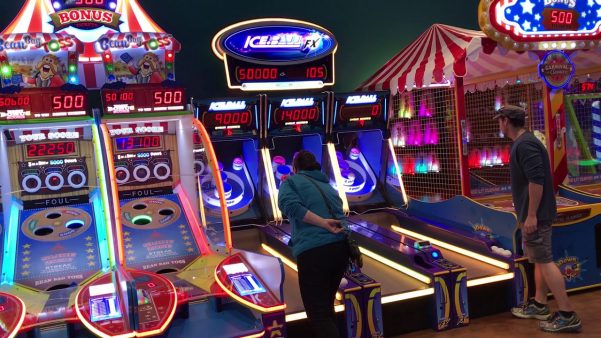 Typical FEC Attraction Mix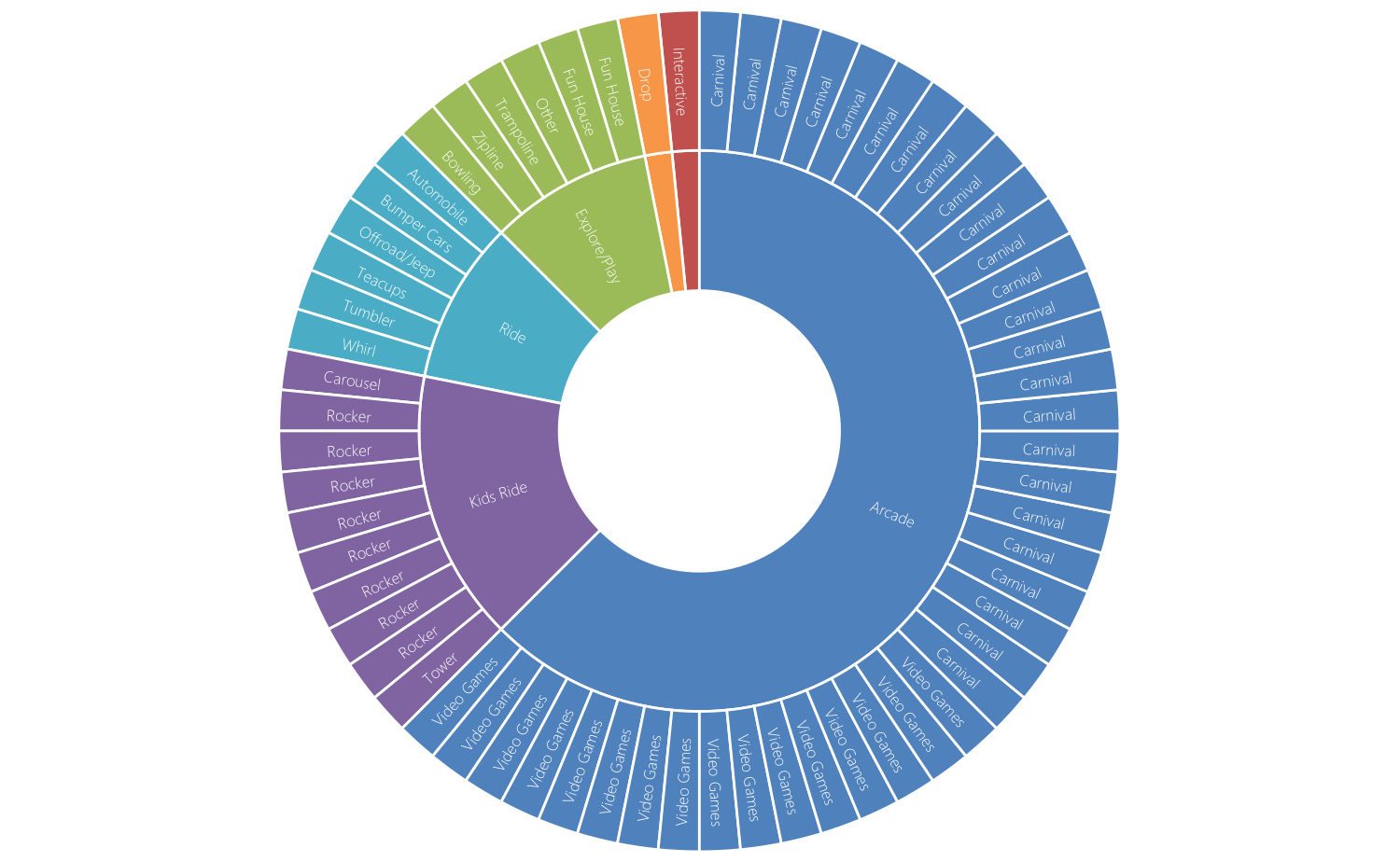 Children's Playroom
Smaller children's attractions with soft play structures, slides, and toys.  These are essentially indoor, padded playgrounds for infants, toddlers, and younger children.  Ubiquitous in most cities around the world, these are smaller attractions of 100 to 500 square meters in size.  Can include cafes and lounge areas for adults.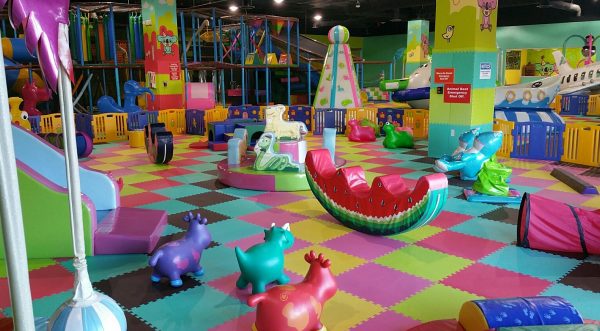 Capacity Constrained/Timed Entertainment
These are indoor attraction options that function either as standalone projects or as attractions integrated into larger parks.  They are characterized by strict capacity constraints, due to their nature as more physical experiences.  A limited number of seats, goggles, or pads mean that either time-based or strict capacity limits are in place.  Can also be round-based, as in the case of go karts or or bowling.
Trampoline Park
Indoor floors replaced with trampolines.  Featuring various sizes and orientations of trampolines, the latest iterations usually also include foam pits, dedicated toddler areas, slam dunk areas, Ninja Warrior-type obstacle courses, and parkour elements.  Ancillary attractions are also common, such as arcades.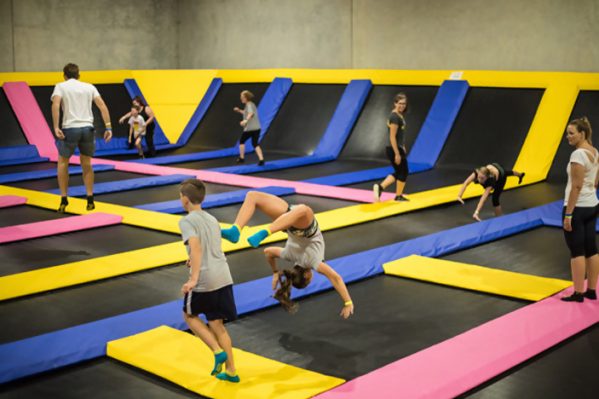 Escape Room
Also referred to as breakout rooms, these are collaborative, puzzle-based attractions in which guests progress through a series of rooms or chambers by discovering clues and solving puzzles.  A ubiquitous type of attraction located in major cities around the world.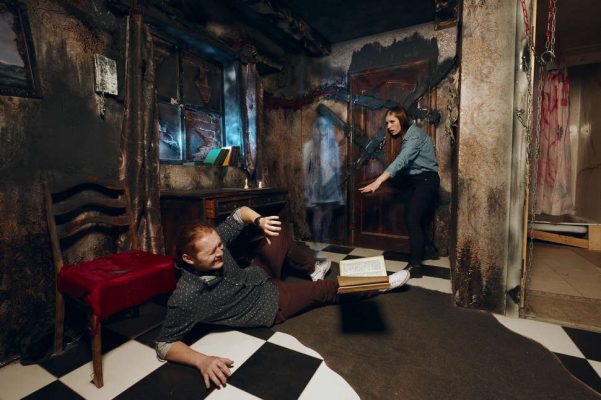 VR Attraction
Free-flowing, exploratory and/or adventure experiences based on VR headsets.  Visitors don VR goggles and walk through large chambers, interacting virtually with the environment around them.
Some variations include VR-based rides as supplements or substitutes to exploratory attractions.  This has been a type rising in popularity, and examples include the Void, Zero Latency, and VAR Live, among others.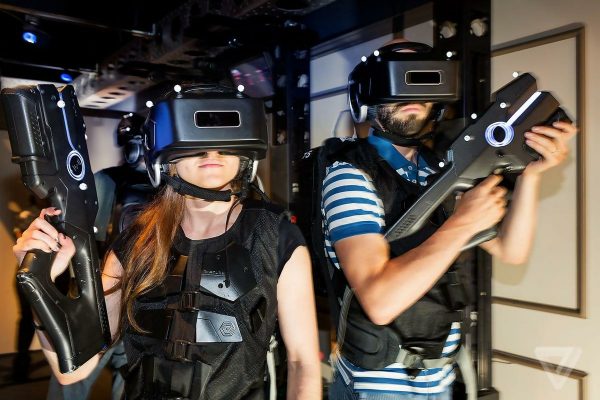 Surf Wave
Attractions arranged around artificial waves.  The majority of examples feature restaurant and bar establishments built around a standing wave.  Increasingly, other formats are rising, with a notable example in the Kelly Slater Surf Ranch's hydrofoil-powered artificial wave "pool", which hosts competitions and training.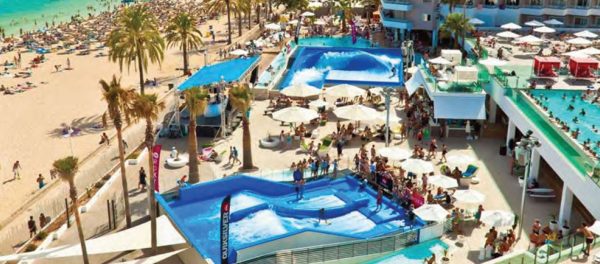 Laser Tag
A competitive, team-based war game experience with laser guns in place of ammunition.  Usually indoor.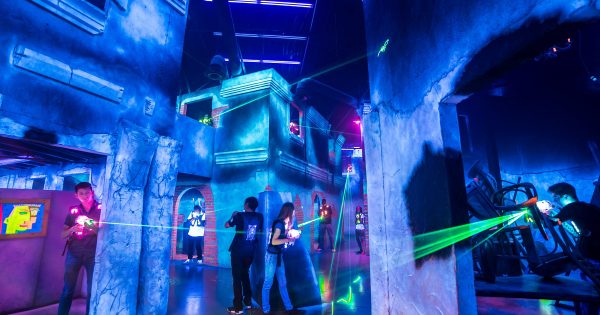 Go Karts
Indoor or outdoor kart racing around a track.  The length of track and number of karts helps determine the length of stay and capacity.  Competitive thrill.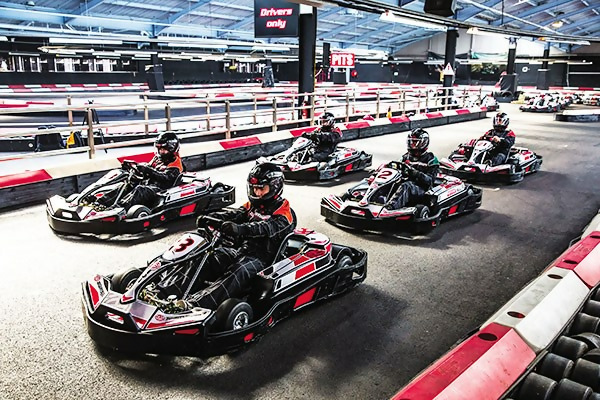 Indoor Skydive
Vertical wind tunnels that give guests the sensation of falling at terminal velocity.  Early attractions were designed as training facilities for skydivers, but have evolved into general consumer attractions.  The actual attraction is not large – wind tunnels have a diameter of up to 5 meters – but the ancillary and supporting facilities are built with food and beverage, retail, and other entertainment tenants to support a longer length of stay.
Either located in mall settings or larger standalone buildings with the aforementioned elements.  Examples are manifold, and include the chains iFly, SkyVenture, Aerodium, Flystation, Windobona, and Hurricane Factory, among others.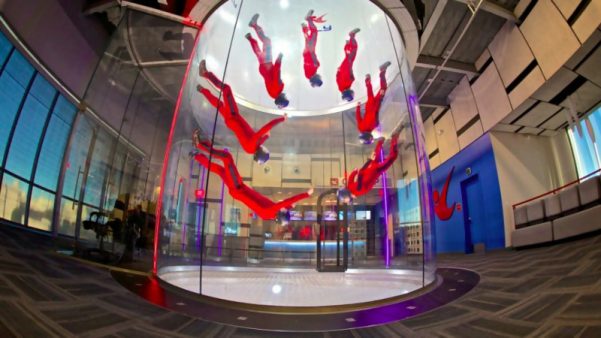 Bowling
Perhaps the oldest of all the types here, and perhaps past its heyday, but remains a perennial draw for visitors.  The latest facilities may feature glow-in-the-dark balls, arcades and attractions, upscale restaurants, VIP lanes, and other ancillary draws, but the game remains the same.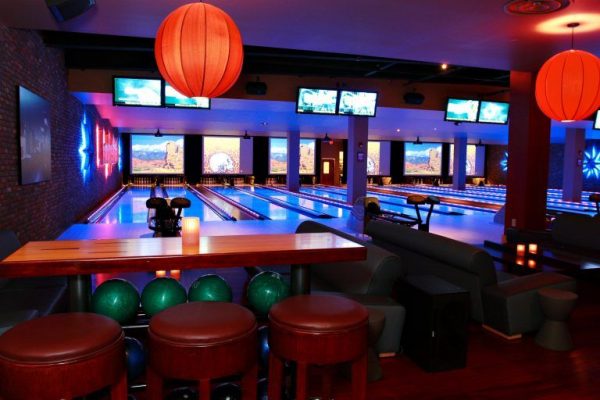 Minigolf
Miniature golf courses with themed obstacles and landscaping.  May be themed and shaped to fit the environment.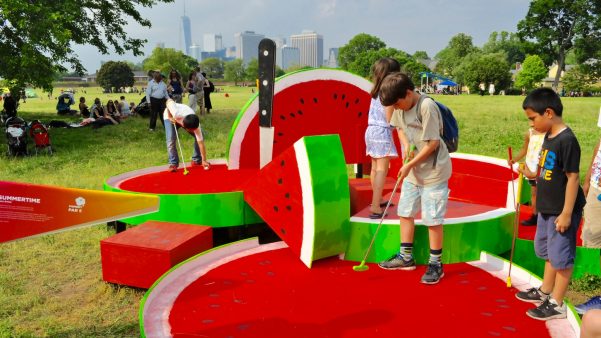 ---
Resort-Based
Attractions that are built primarily as amenities to resort accommodations.  They can remain open to outside guests (i.e., those not staying onsite), but the primary demand for the attraction will be the captive visitors who are paying for rooms in the resort.
Business models vary, but due to the premium nature of the experience, resort room rates usually run at a premium to neighboring or otherwise comparable room accommodations.  When targeting onsite guests only, typically there is no additional charge for access to the attraction.  The premium room rate justifies the additional investment in the amenity.
Such amenities are usually waterparks, as in the case of Great Wolf Lodge, the Atlantis Bahamas and Dubai, Nickelodeon Punta Cana, and Centerparcs.  But larger resorts sometimes offer a variety of attractions, such as FECs, arcades, or dark rides.  Examples of the latter include Studio City Macau's Batman Dark Flight, or Dreamplay at City of Dreams Manila.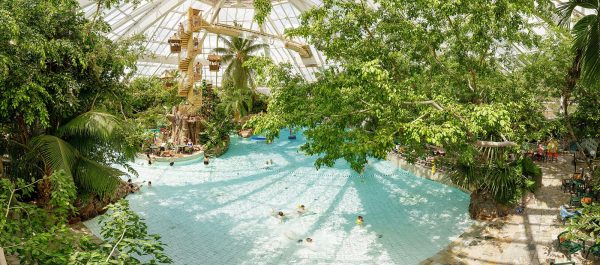 ---
Marine Animal
Themed attractions based around marine animal shows and exhibits.  Marine mammals are usually the main event – dolphin, orca, beluga, or seal shows are common.
This type of attraction runs a spectrum between pure aquaria, with an emphasis on education and conservation-based exhibits, and for-profit attractions, which usually feature more live shows and traditional theme park attractions.
Seaworld is the type's foremost example, but each region usually features its own homegrown variant, such as Ocean Park and Chimelong Zhuhai in Hong Kong/Zhuhai.
Recently, this type, along with all wildlife-based attractions, have come under criticism and scrutiny.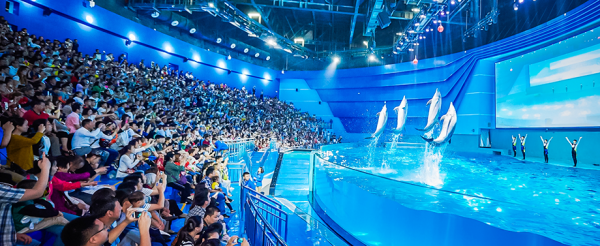 ---
Show-Based
Attractions for which the defining feature is a landmark live show, or series of shows.  Often, the grounds around the show are themselves themed and filled with ancillary attractions and retail to lengthen the overall time spent in the park.
Examples include Puy du Fou in France, and the Songcheng brand of attractions in China.  The latter are a chain of attractions featuring a single one-hour spectacular, and retail entertainment grounds surrounding it.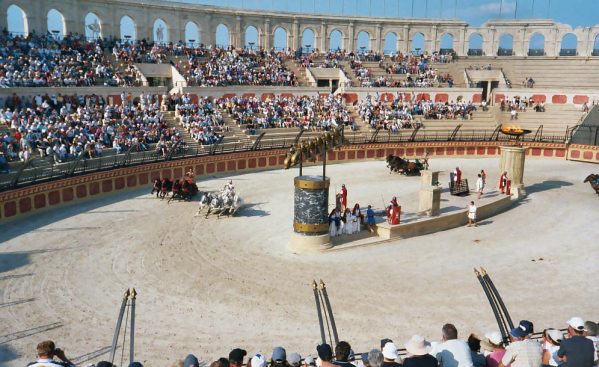 ---
Cultural Attraction
Attractions centered around regional cultures or religions.  The attraction mix at such projects vary, but are usually reliant on shows and exhibits, and/or hands-on experiences, rather than typical rides.
Most examples operate using a non-profit model, heavily reliant on grants and donations, and/or subsidies and operating budget contribution from municipalities and governments.  However, for-profit models do exist.
Examples include the Polynesian Cultural Center, Holy Quran Park (Dubai), Holy Land, the Ark Experience (Kentucky), Tierra Santa, Taman Tamadun Islam, among others.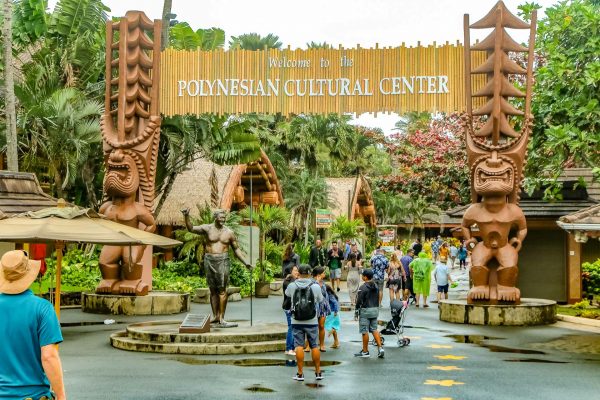 ---
Participatory
Adventure Park
Indoor or outdoor experiences based on highly physical, kinetic experiences ranging from rope climbs, obstacle courses, slides, to swings.  Often used as team-building exercises for the corporate market, the type is growing in popularity.
Examples include Uno Parks, District 21 in Malaysia, Sports Monster in Korea, and Discovery Adventures.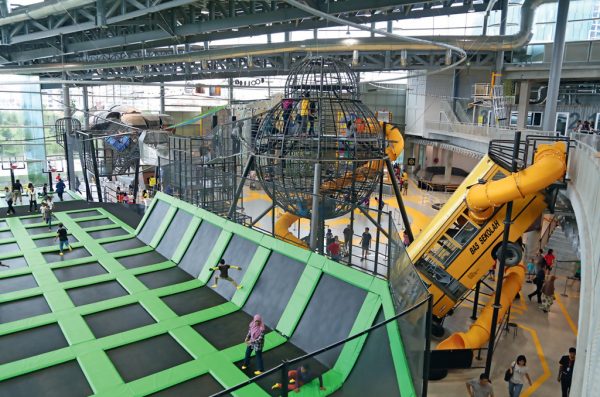 Agricultural Attractions
Farmstay or holiday farm experiences that allow visitors to 'experience' the farming lifestyle, whether in day- or overnight formats.  Common activities include petting zoos, walking tours of the grounds, fruit picking, crop-themed restaurants and markets, as well as resort stays.  Larger experiences can include typical elements of theme parks, with pools and rides.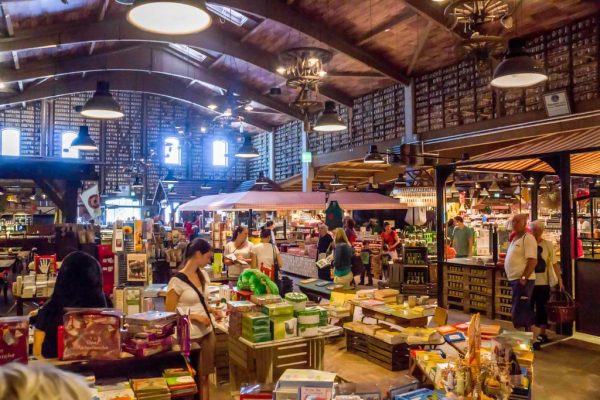 Indoor Ice, Ski & Snow
Indoor ice skating rinks, or indoor domes with artificial snow for skiing or play.  Indoor ski attractions are larger, and require a higher level of investment for slope and lift construction.  Many indoor ski attractions have an athletic body-association and are used as training facilities, while indoor snow can serve as both standalone and theme park-integrated attractions.  A year-round destination that is an escape, especially in locations experiencing no snowfall.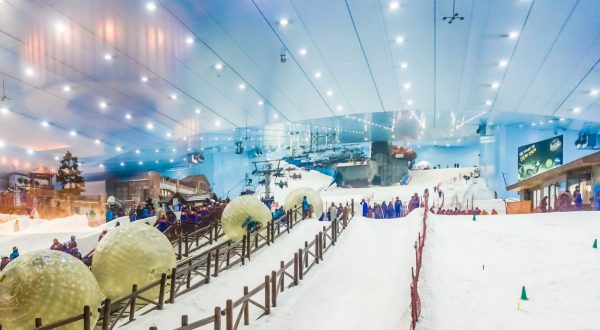 Marine Interaction
Low-throughput, high ticket price attractions that take a low volume of visitors to "swim with the dolphins", hands-on encounters with fish and stingrays, or snorkeling with other marine wildlife.
Due to their nature as low capacity attractions, upcharges or tickets are usually very high; and are among the highest of attractions in the world.
Discovery Cove is one of the larger examples of such an attraction, and operates under a pay-one-price scheme.  Dolphin Island in Sentosa, or the various marine wildlife encounter programs at the Atlantis resorts are alternative examples, and operate using the upcharge model.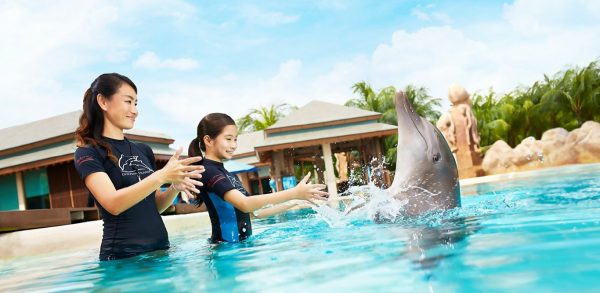 Other
Miscellaneous examples abound, and this category is almost a cheat to classify the numerous examples that defy categorization.  Diggerland, in both the US and UK, is an outdoor park based on heavy machinery.  Two Bit Circus is a 21st century carnival with immersive, interactive elements of escape room, VR attractions, social games, and arcades.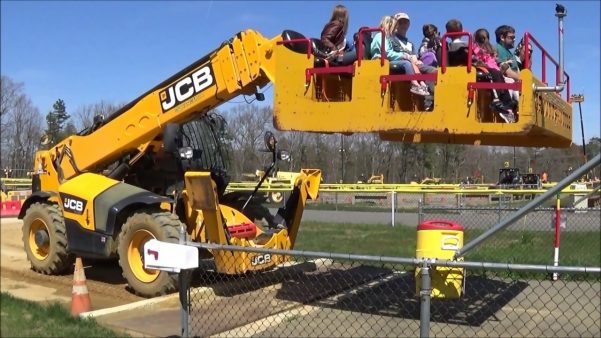 ---
Gardens
Exhibits of regional or worldwide flora in conservatory environments.  Flowers and plants may be displayed thematically, by climate, or region, but the focus is usually on conservation, education, and research.
Notable subcategories are gardens whose emphasis is on butterflies and the plants they favor, or gardens focused on particular types of plants – herbs, native cacti, etc.
For these reasons, these attractions are usually, but not always, not-for-profit enterprises maintained using government funds.  Notable examples include the Royal Botanic Gardens at Kew, Nong Nooch Tropical Gardens in Thailand, and Gardens by the Bay in Singapore.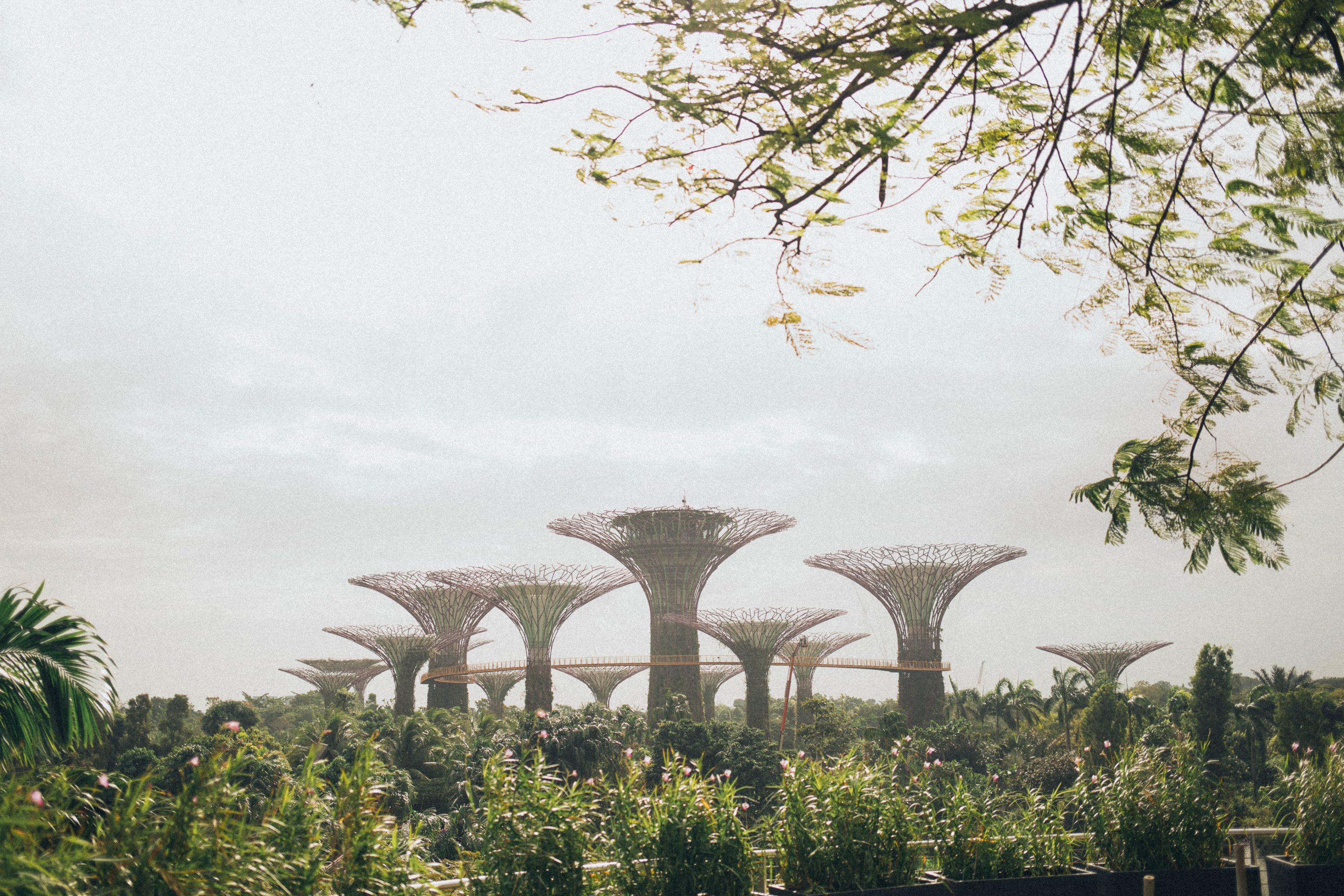 ---
Wildlife-Based Attraction
Exhibit and show-based zoos or safaris.  These can be standalone enterprises, or included as part of larger amusement parks.  Notably education-oriented.
Disney Animal Kingdom is a notable exception, but many standalone wildlife attractions around the world are not-for-profit enterprises, or ones maintained by municipalities or governments of some sort.  Notable examples include the Night and River Safaris in Singapore.  Bali Safari and Marine Park is another notable example, and examples of zoo exhibits within amusement parks are the animal exhibits at Sunway Lagoon, or the safari at Everland.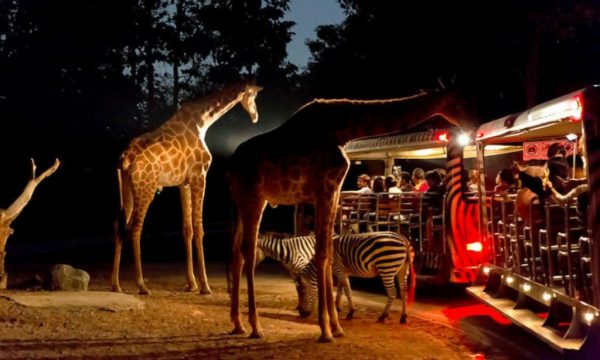 ---
Museum/Exhibit-Based
This is a large category; these are both indoor and outdoor installations characterized primarily by the nature of the attraction mix: exhibits, rather than shows or rides.
Minilands
Exhibit-based, miniature simulacra featuring buildings, scenes, and/or worlds.  Examples include the Window of the World in Shenzhen, Mini-Europe in Brussels, France Miniature, or Haw Par Villa in Singapore.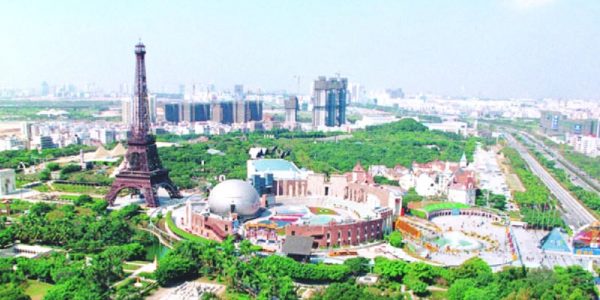 Factory Tours
Behind-the-scenes tours given by manufacturers or agricultural-based enterprises of the development or processing of their goods.  Need not only be based on tangible products, as media examples are common.
Examples abound, and include the NBC and CNN Studio Tours, the Heineken Experience, the Hershey Factory Tour, John Deere Factory Tour, the Guinness Storehouse, Ben & Jerry's Ice Cream Factory Tour, the Crayola Factory, among many others.  Usually operated as a showcase and a cost center, rather than profit-generating enterprises.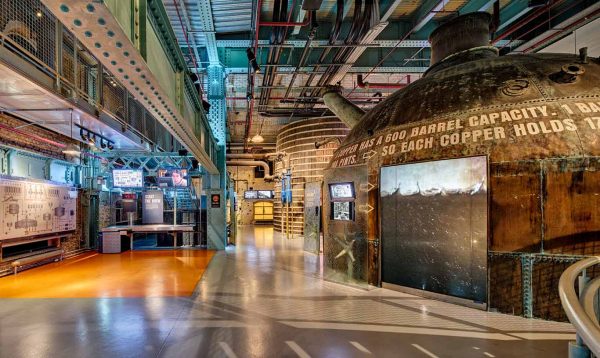 Art and Culture Museums
Self-explanatory, these are traditional museums for art, history, and culture.  Runs the range from examples like the Louvre or the National Palace Museum in Taipei, to outdoor art installations like Jeju Loveland or the Ghibli Museum in Japan.  Usually also on not-for-profit models (sustained by grants, donations, or budget contributions), although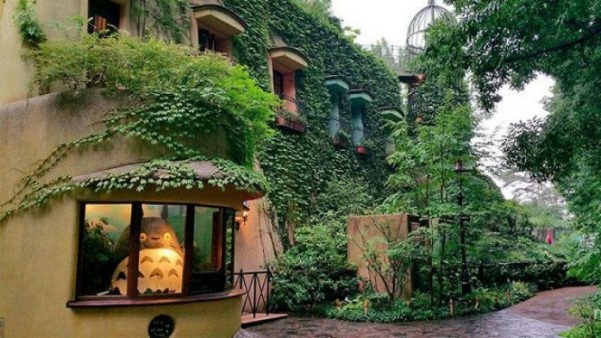 Interactive Museums
This category is of interactive museums, including science-based installations such as Orbi in Japan or the National Geographic Encounter in New York.  These are usually exhibits based on nature and science subjects, presenting them in a way that is more entertaining than traditional museums.
A major subcategory of this type are science and discovery museums, which are usually educational installations aimed at children.  Commonly referred to as 'edutainment', these attractions present a variety of themes in the form of interactive exhibits.  Examples include the Museum of Science Boston, Kidspace Children's Museum, Museum of Science and Industry in Chicago, among others.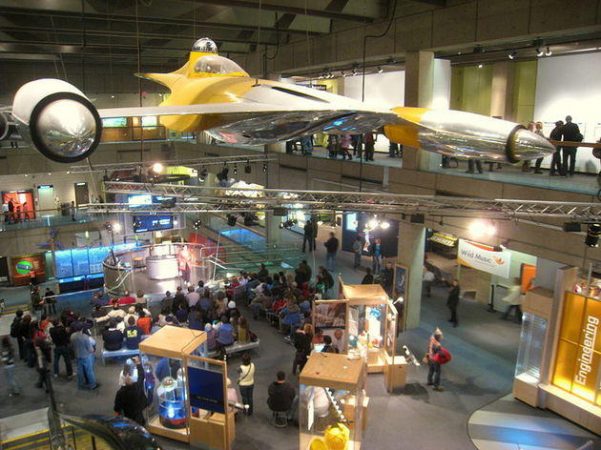 Other Indoor Exhibits
Other miscellaneous examples of indoor exhibits include wax museums and haunted houses, as well as more modern multi-sensory, immersive art installations such as Snark Park, SuperReal, or Happy Place.  The latter is a burgeoning type of singular, unique experiences that we believe is on the cusp of becoming its own category.
---
Observatory/Wheel
Attractions for which the defining feature is the view of the surroundings afforded by their height.  Wheels, such as the 'Eye' series, fit this type, as do observatories and towers of all kinds.
This type is a mainstay within larger amusement parks, but also operate frequently as standalone attractions: the London Eye, Singapore Flyer, High Roller (Las Vegas), among the more high-profile examples.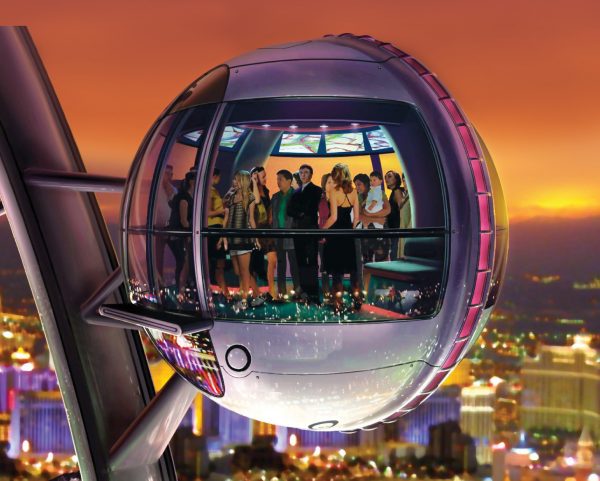 ---
Dinner Theater
Dinner and a show taken to a new level with purpose-built, often 1,000+ seat amphitheaters, and themed meal service provided during the spectacular.
Examples include Pirates!, Medieval Times, Australian Outback Adventure, Dolly Parton's Stampede, among others.  Can be standalone or located within larger entertainment venues and amusement parks.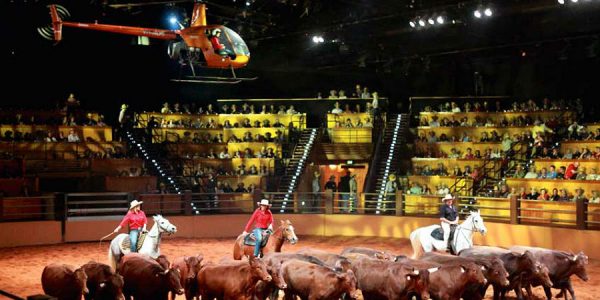 ---
Flying Theater
A theater with moving seats, situated in front of a dome screen.  Motion seats give the sense of movement, and 'flying' through depicted scenes.  Historically, this type have been attractions inside a larger amusement park, but recently have gained interest as standalone types.
Examples include Flyover Canada, Flyover America at the Mall of America, and Batman Dark Flight at the City of Dreams Macau.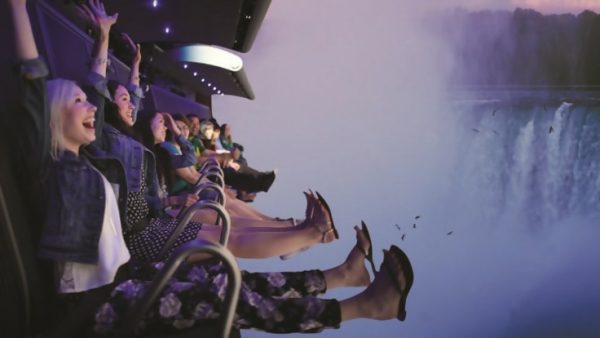 ---
Themed Village/Retail Entertainment
Retail entertainment projects that feature an eclectic mix of attractions, resort accommodations, and food and beverage, with no particular element dominating as a source of revenues.
These attractions are occasionally ungated, but usually require a nominal admissions fee to gain access to the highly themed and landscaped grounds.  Distinguished from typical mall- or outlet-based retail projects by a higher emphasis on entertainment, and/or an admissions fee.  Many are now placing an emphasis on resort accommodations to lengthen stays.
Examples include Tivoli Gardens, Ba Na Hills in Vietnam, Nami Island in Korea.  China is leading the development of this type with mega projects such as Beijing Gubei Water Town.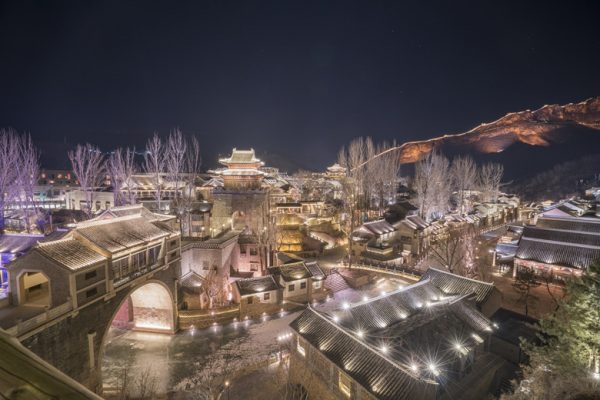 In Summary…
We hope this is useful.  We had a little trouble defining some.  For example, is Futuroscope, a theme park based primarily off of media exhibits and dark rides, a show park or a regional theme park?  Is Dreamplay, one of the foremost FECs in Asia, an indoor theme park or an expanded playroom?  Or are they something in between?  Should we consider Tivoli Gardens, which has a dozen different revenue streams, a themed village/retail entertainment project, or is it more appropriate classified under a regional theme park category?  Should we give Universal Studios its own category, or does it really fall under the 'Dark Ride Park' category?
In the end, we had to make our determinations based on both quantitative (business model concerns) and qualitative measures, such as whether there were enough examples to create standalone categories, or whether – for the time being – consolidation within existing categories was warranted.
As with most things on this website, this is a work in progress, but hopefully a big step in helping our readers and clients perform their concept development.  Let us know your thoughts and burning questions at data@theparkdb.com.