Once primarily of appeal to religious tourists, Saudi Arabia is now positioning itself to become the ultimate leisure destination.
Under the Vision 2030 Plan, launched by Crown Prince Mohammed bin Salman in 2016, the kingdom is focused on diversifying its economy away from a reliance on oil revenues.
The tourism and leisure industry are expected to be big beneficiaries.
In this article, we'll be covering the major mega-, gigaprojects that have been announced so far.
If you want to skip ahead, here's a handy outline:
The Tourism Industry
First, a bit of background.
Saudi is a nation with 60% of the population under the age of 35.
Saudis spend $37 billion on entertainment. But of this amount, local entertainment spending only accounts for about 30%. A crucial goal of Vision 2030 is to offer an alternative to Saudis from traveling abroad for their leisure and entertainment. But making citizens spend money within the country to boost the economy requires innovative entertainment experiences.
Moreover, household entertainment spending is projected to increase at 2.9 to 6%; Saudi Arabia's entertainment market could be a 30b SAR local market by 2030.
The existing tourism sector is vibrant, with 18 million inbound trips to, and 45 million local trips within the Kingdom. On average, foreign tourists spend 9 nights in Saudi Arabia while local tourists record an average of 5 nights per trip. Most of this tourism is pilgrimage and/or religiously-motivated, but importantly it means that the tourism infrastructure in terms of hotel accommodations, roads, and other service industries is already present.
In order to accomplish its goals, the Kingdom targets tourism income contribution of 10% of GDP.
Increasing private sector and SME contribution and foreign direct investments are crucial to this goal. As are the plans to double UNESCO heritage sites, improve visa issuance processes, and construct attractions meeting the highest international standards.
Among the most remarkable programs under Vision 2030 are the so-called gigaprojects.
Ranging from entertainment complexes to innovative city developments, these projects are poised to completely transform the Saudi entertainment and leisure landscape.
An Ambitious Vision
With budgets ranging from $1.2 billion to $500 billion, these gigaprojects aim to achieve the objectives of the Kingdom while changing the Middle East's leisure and tourism center of gravity.
NEOM —The New Future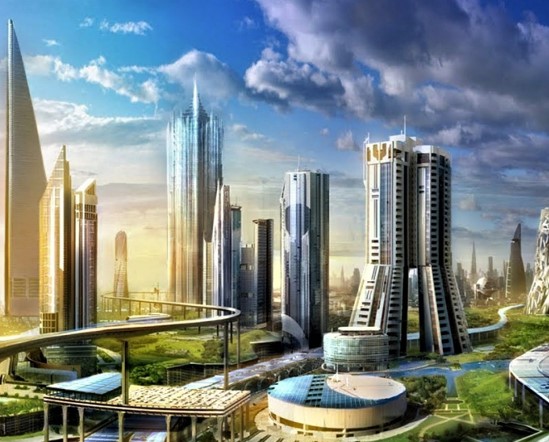 Of the various projects under consideration, NEOM may be one of the most ambitious.
NEOM is a full-fledged megacity due to rise in northwest Saudi Arabia (Tabuk). The city will share the Kingdom's northeast border with Jordan and Egypt.
Covering a total area of 26,500 square kilometers (including a 468-km coastline along the Aqaba Gulf), and encompassing mountains with elevations as high as 2,500 meters, the planned area is thirty-three times as large as New York City.
Taking advantage of its location, NEOM will have direct transportation hubs to Dubai, Qatar, and Abu Dhabi. Publicly launched in 2017, the first phase of the project has a 2025 completion date.
16 economic divisions will account for forecasted annual revenues of around $100 billion.
A major feature of the city is zero-carbon emissions by using renewable energy as the main power source. As part of the thrust to increase non-oil exports, NEOM has a partnership with Air Products to build a carbon-free hydrogen plant with a $5 billion budget.
NEOM's flagship project is The Line, a city within a city, and one built for a million residents stretching across a length of 170 kilometers. Planned to be a city run by machines, The Line will use smart technology using 5G networks to eliminate cars and roads and solve the issue of congestion.
As a cornerstone project for Vision 2030, NEOM is one of the priority projects of the Kingdom.
SEVEN Entertainment Ecosystem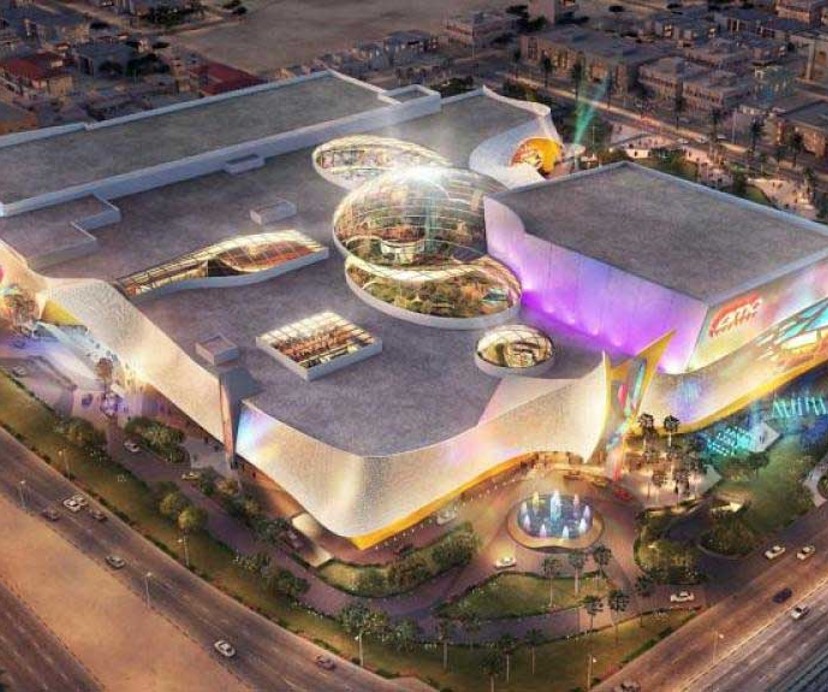 After opening the first cinema in Saudi Arabia in the last 35 years, Saudi Entertainment Ventures Company (SEVEN) has an entire lineup of projects in line with Vision 2030.
With a combined budget of $64 billion for multiple sites in Saudi Arabia, development plans include two large theme parks, 20 entertainment destinations, and 50 cinemas. Approximately $2.7 billion has already been spent on infrastructure projects across the Kingdom.
Jeddah and Dammam, key communities for business and industries, will be the site of two mega theme parks. SEVEN will also open new entertainment complexes in the two Holy Cities of Makkah and Madinah, in Saudi Arabia's unofficial summer capital Taif, and in the scuba-diving destination Yanbu.
Other areas for development include Al-Kharj, Buraydah, Abha and Khamis, Al Khobar, Jazan, and Tabuk where construction work for NEOM is underway.
Within Riyadh, the Kingdom's capital, two entertainment complexes spanning 100,000 and 13,500 sqm will be home to retail establishments, restaurants, venues for shows and events, cinemas, leisure facilities for watersports, and other activities.
Qiddiya Entertainment City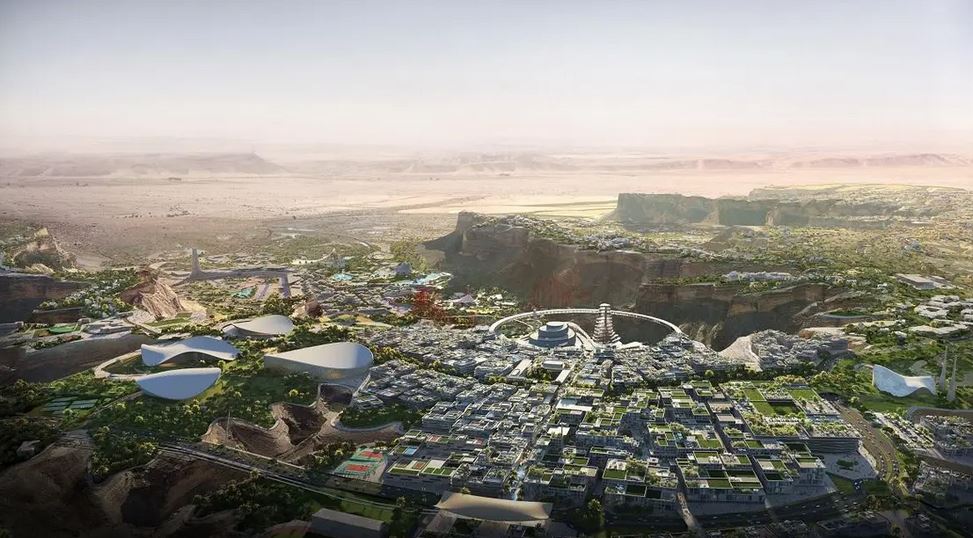 With an announced budget of $8 billion, Qiddiya Entertainment City plans to rise as the Kingdom's primary entertainment destination, with 45 individual projects and 300 leisure activities. These include theme parks, golf courses, sports facilities, mountain sports within the Exo-zone, safari tours, winter activities, grassroots sports, cultural and educational events.
Located about 40 kilometers from Riyadh's city center, the city spans an area of 334 square kilometers with a planned developed area of 103 square kilometers.
Phase 1 of the project will see the opening of Six Flags Qiddiya with 28 attractions across its six lands. The park's signature attraction will be Falcon's Flight, the tallest, fastest, and longest roller coaster in the world.
Among other attractions, the city will also feature a 5-star golf resort & spa with an 18-hole championship course, a 4-star waterpark resort, a Motorsport "speed park", and Karting facilities. The development also includes a clifftop stadium, a performing arts theatre, and a multi-purpose indoor arena.
Red Sea Project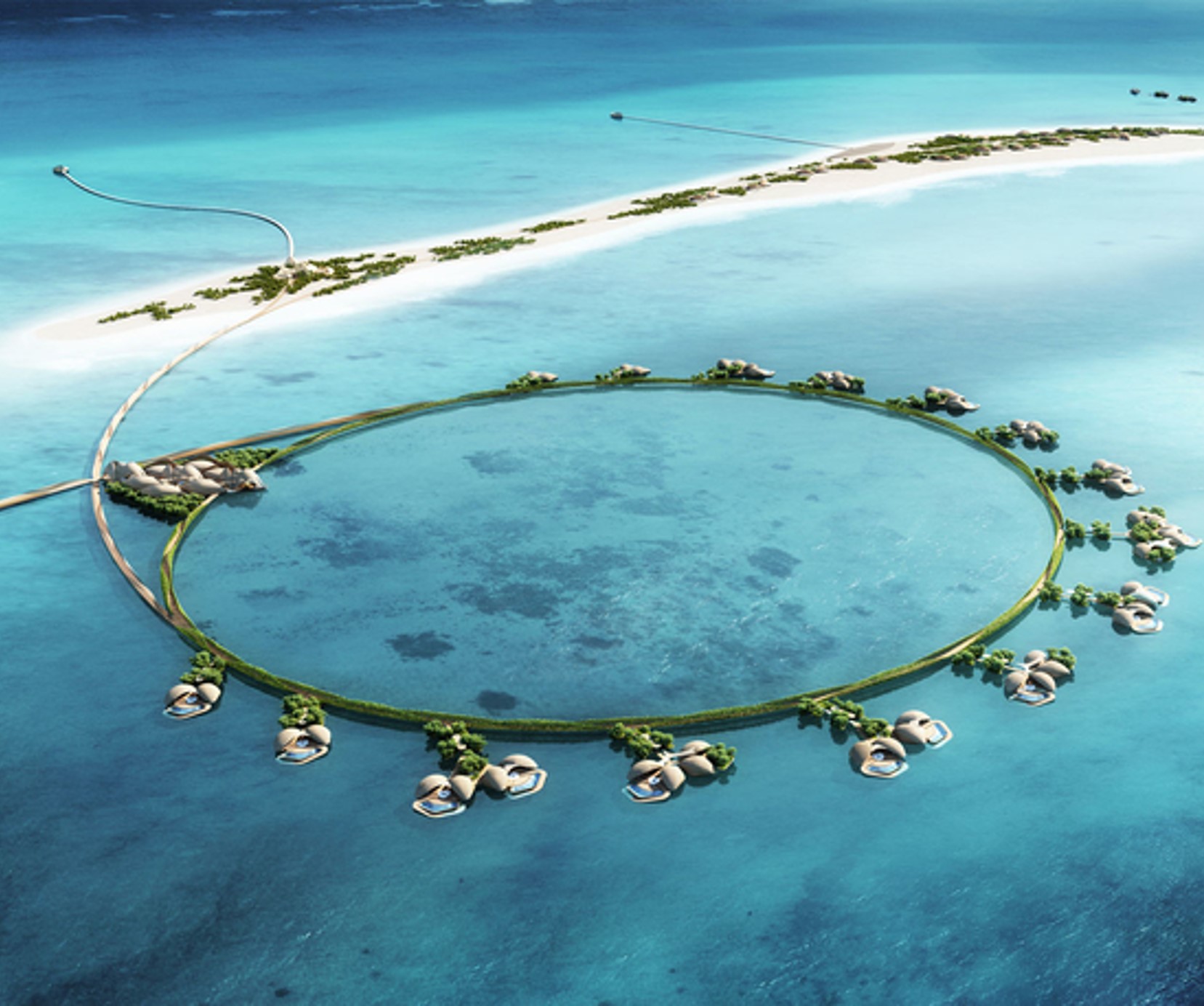 Announced in 2017, the Red Sea Project is a megaresort complex including 50 resorts across six inland sites and 22 island destinations. The development is planned to cover 28,000 square kilometers, including 200 kilometers of coastline and 90 offshore islands between Umluj and Al Wajh.
With an estimated budget of $4 billion, the Red Sea project will contain more than 8,000 hotels rooms, and 1,000 residential properties. A new international airport will facilitate transport.
Phase 1, with a target date of 2023, will see the launch of the Foster + Partners-designed Coral Bloom Resort, as well as the completion of two inland resorts and 14 luxury hotels across five islands.
Expected to generate revenues of up to $6 billion per year upon completion, the project's attractions also include canyons, beaches, dormant volcanoes, and scuba diving on the 4th largest barrier reef system in the world.
The development will have a light footprint, with only 1% of the land area actually developed, treating guests to the beauty of nature even while offering luxurious leisure facilities.
AMAALA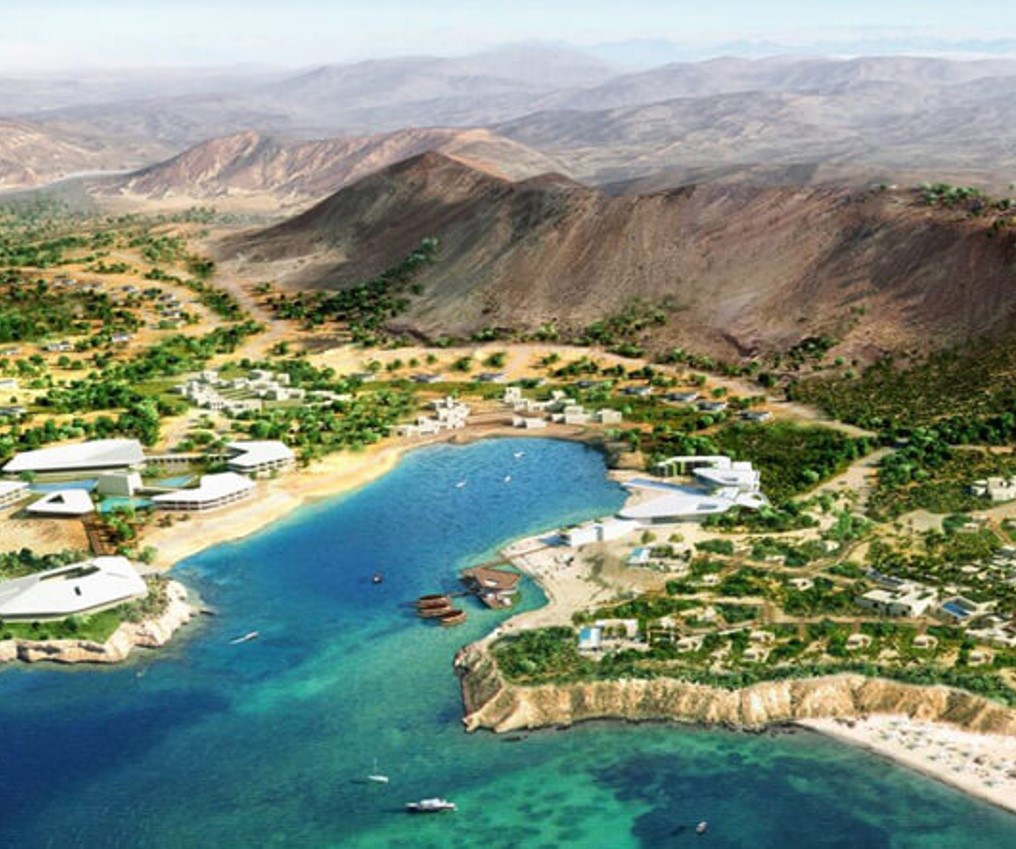 Dubbed the new Riviera of the Middle East, AMAALA is an ultra-luxurious resort development within the Prince Mohammad bin Salman Natural Reserve on Saudi Arabia's northwestern coast.
Planned with more than 700 residential villas, 2,500 hotels, and 200 high-end retail establishments, the resort will be developed in line with the goals of environmental conservation, with actual development covering only 5% of the area.
The resort will cover 4,155 square kilometers across various locations. The Island will feature Arabian-inspired botanical gardens highlighting sculpture and art, while Triple Bay will be the place for rejuvenation and environmental conservation.
Designed to be the Middle East's art epicenter, the coastal development includes a cultural village with a contemporary art museum. Eco-diving, yachting, and a world-class golf course are also part of the coastal development.
Main facilities include the Wellness Core wellness retreat center, and the marine and coastal science research center Marine Life Institute. The development also includes a sports performance academy and an active sports club facility offering polo, falconry, equestrian, camel racing, tennis, and golf.
Other amenities will include beachfront access, marinas, exhibition and performance facilities, artisan shops, and working studios. Year-round sea expeditions, a fashion scene, mindful and healthy activities will also be part of the offerings.
Other Projects in the Pipeline
With several infrastructure projects in the pipeline, some gigaprojects are due to receive higher priority. Despite delays for some developments, construction has been ongoing all over the Kingdom.
While it's unknown if all projects will see completion, Vision 2030 initiatives include the following developments.
Al Ula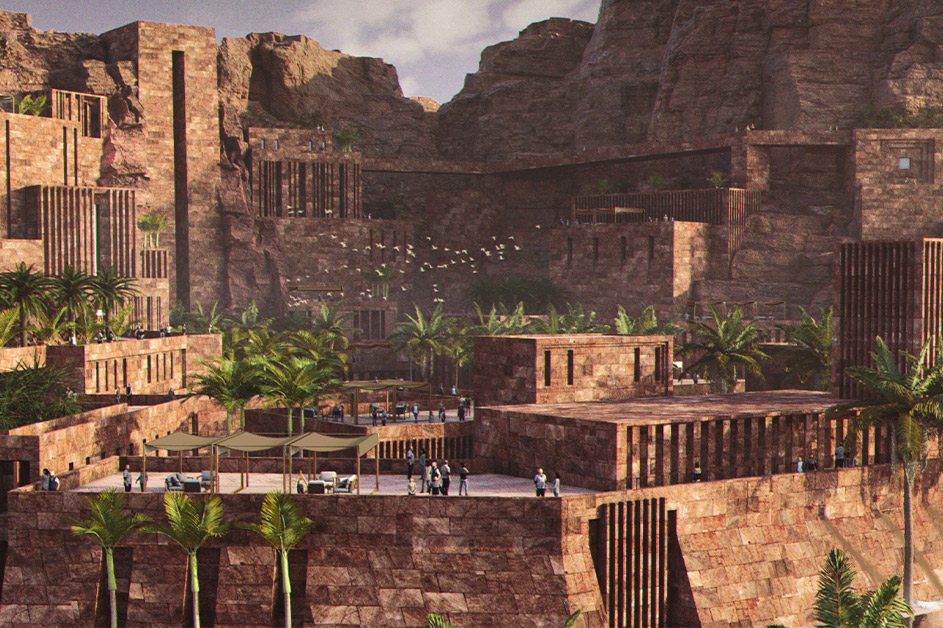 With a budget of $20 billion, Al Ula is focused around Hegra, Saudi Arabia's first UNESCO World Heritage Site. Surrounded by 23,000 archeological sites, the area would be the Kingdom's main cultural ecotourism destination.
The Al Ula developments will include an airport expansion, museums, a 5,000 sqm concert hall, hotels, and resorts. The area will also have wildlife & natural reserves, mountain trails, and desert campsites.
Jeddah Tower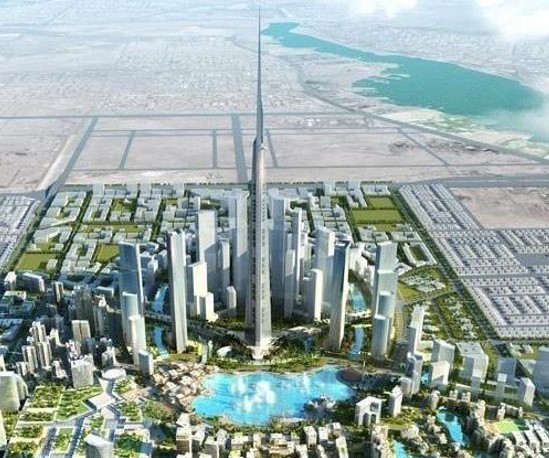 With an initial budget of $1.2 billion, the Jeddah Tower will symbolize the region's prosperity and growth. The one-km-high tower will house a Four Seasons hotel, office spaces, and residences.
With an initial completion date of 2020, construction stopped in 2018 with 60 floors out of 252 floors completed. While there is no updated target completion date for Jeddah Tower, construction of the surrounding master plan is ongoing.
Diriyah Gate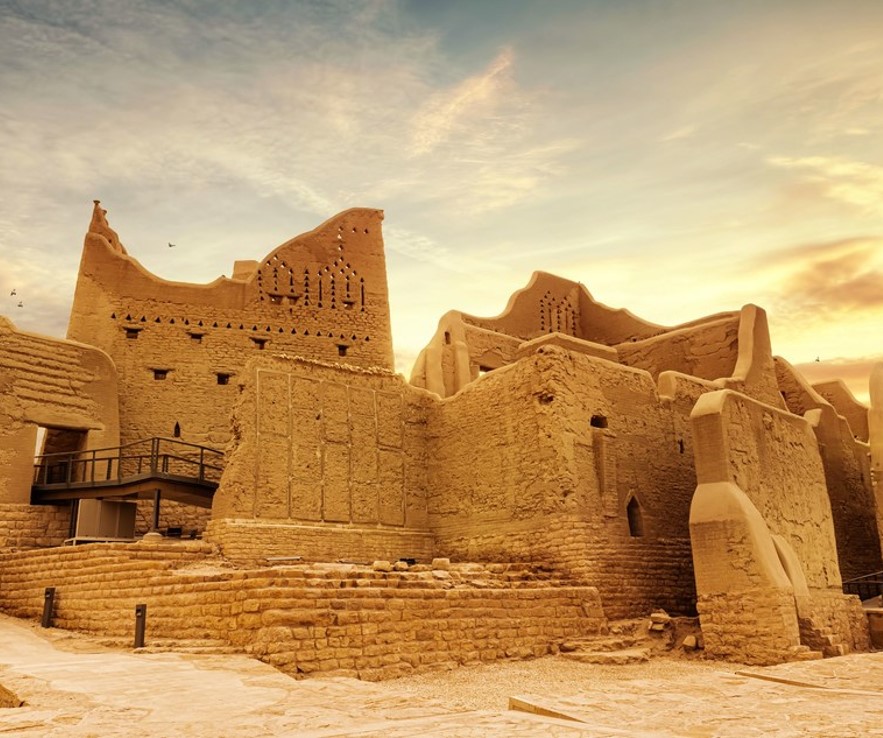 Covering 7 square kilometers, Diriyah Gate has a $20b budget and a 2028 deadline.
Diriyah Gate will be a lifestyle destination with attractions like a Formula-E racetrack and a 15,000-seater arena.
With elements focusing on entertainment, hospitality, education, and culture, the development also includes five iconic squares, outdoor plazas, 20 hotels, and a 3-kilometer escarpment walk, and more than 100 dining options.
Al Widyan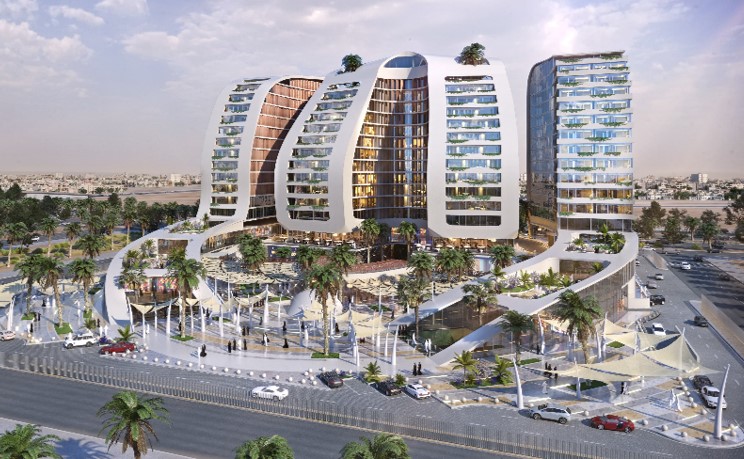 Al Widyan is a $2.7 billion development with 20,000 low-rise and high-rise housing units in Riyadh's northwest growth corridor. The development has a walkable design and expansive greenery designed for young families.
To create a 24/7 community, the development includes educational, leisure, and business facilities.
The Avenues – Riyadh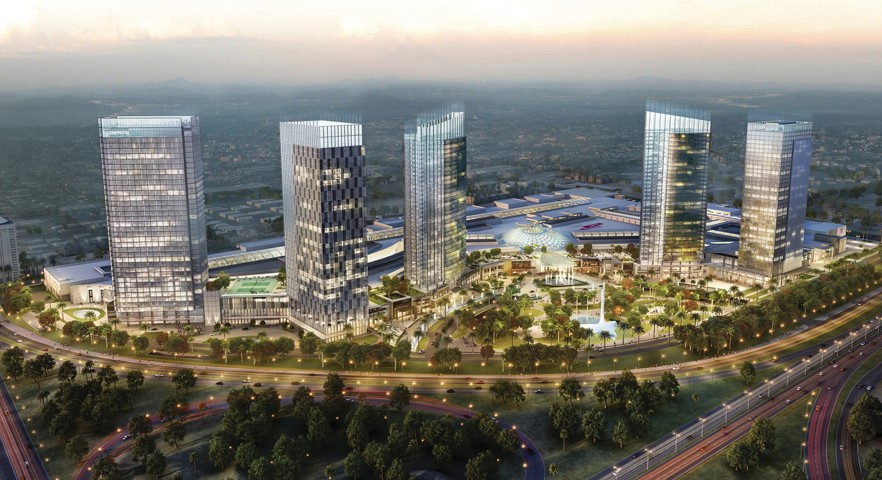 Scheduled to open in 2023, The Avenues – Riyadh sits at the capital city's entry point.
The $3.2 billion development by Shamoul covers 390,000 square meters. Features of the project include shopping and entertainment districts, Hilton-operated hotels, and residences.
Al Akaria Arabian Dream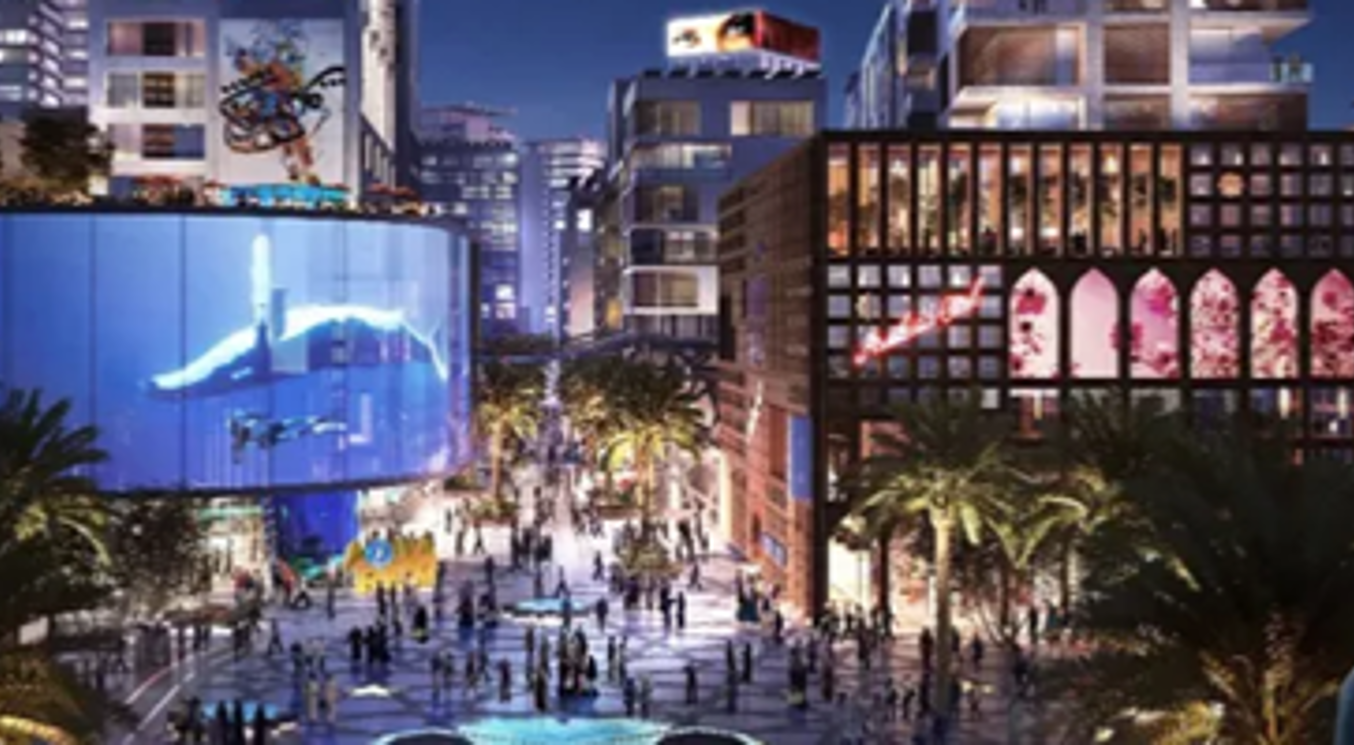 Al Akaria is a mixed-used development and leisure destination. Located in Riyadh, this $5 billion development is planned to cover 7 million sqm. Project features include sports and recreational facilities, water parks, theme parks, shopping centers, AI technology, and dining options.
Mall of Saudi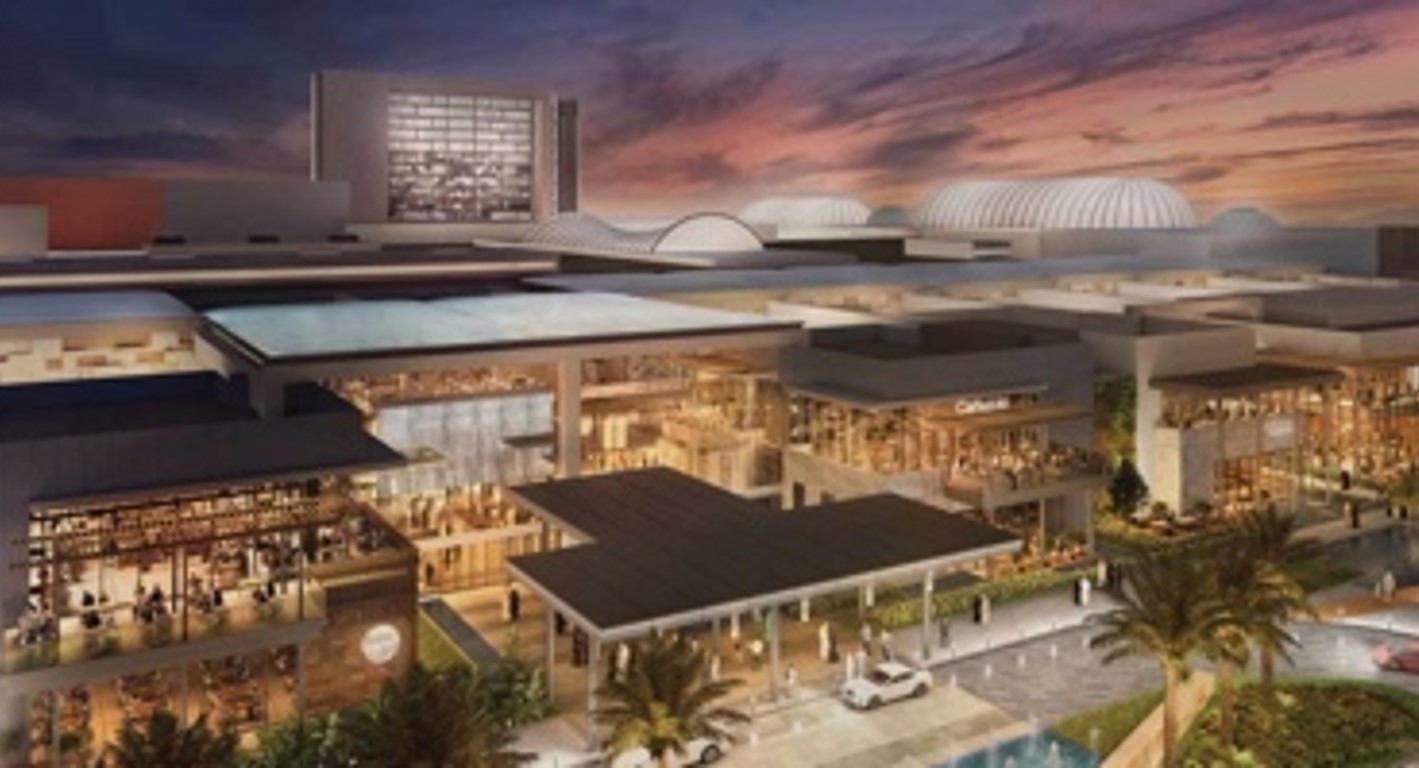 Another project in Riyadh, the Mall of Saudi, will cover an area of 866,000 square meters. Set to open in 2025, the project has a budget of $3.2 billion.
Mall of Saudi will have an indoor snow park, serviced apartments, hotels, showrooms, entertainment areas, and restaurants.
Royal Commission for Riyadh City Initiatives
Riyadh, the Kingdom's capital, is among the main areas for development. To support Vision 2030, the Royal Commission for Riyadh City announced four major initiatives under its management.
With a combined budget of $23 billion, the projects will improve the quality of life in the capital. RCRC also expects to create 70,000 jobs and attract investment of up to SAR50 billion.
Green Riyadh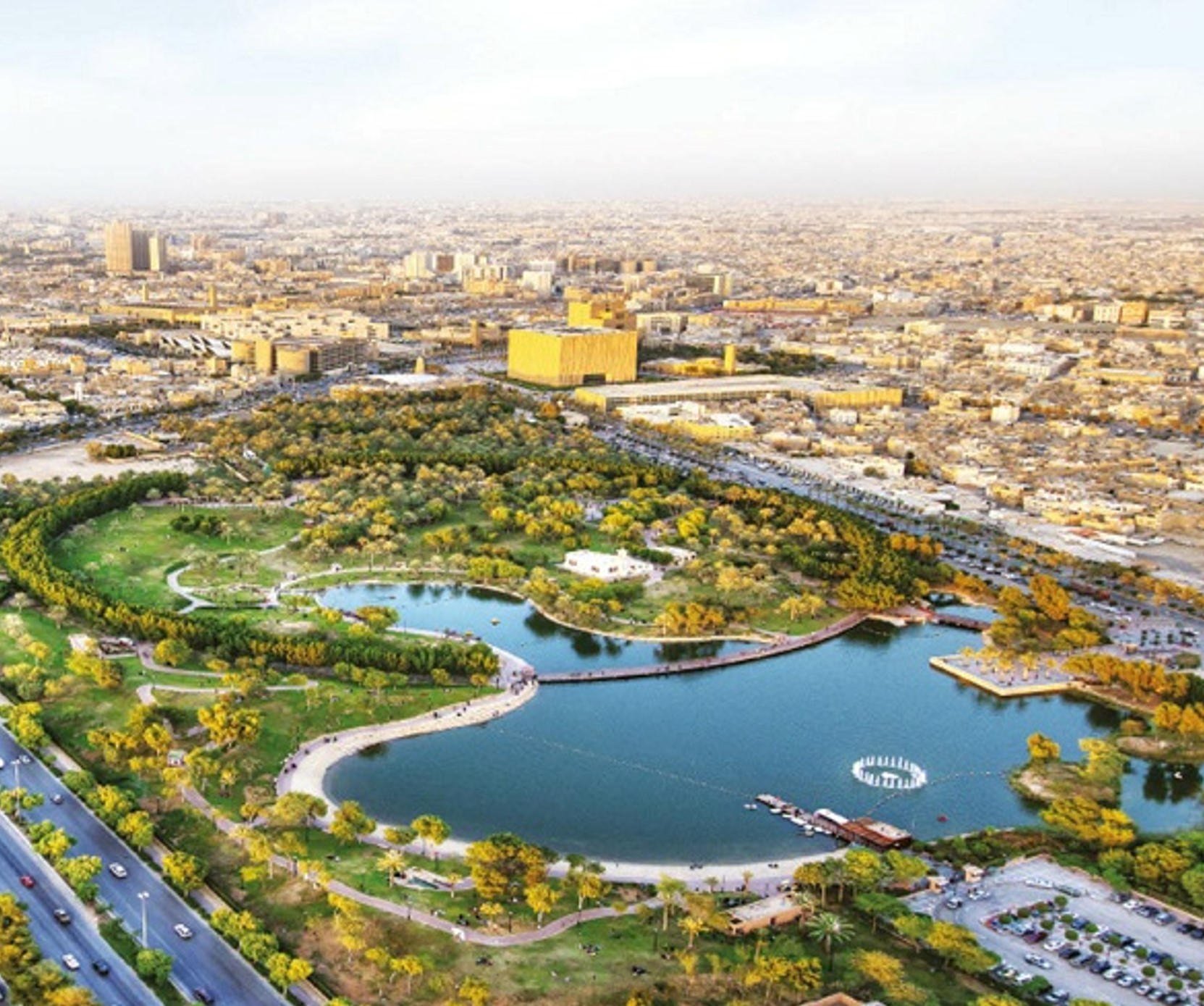 Green Riyadh focuses on planting 7.5 million trees to support the capital's green initiatives. Target areas include King Khaled International airport, mosques, streets, roads, parks, and more.
By increasing greenery, the project aims to decrease the temperature by 2°C and improve air quality in the city.
Riyadh Art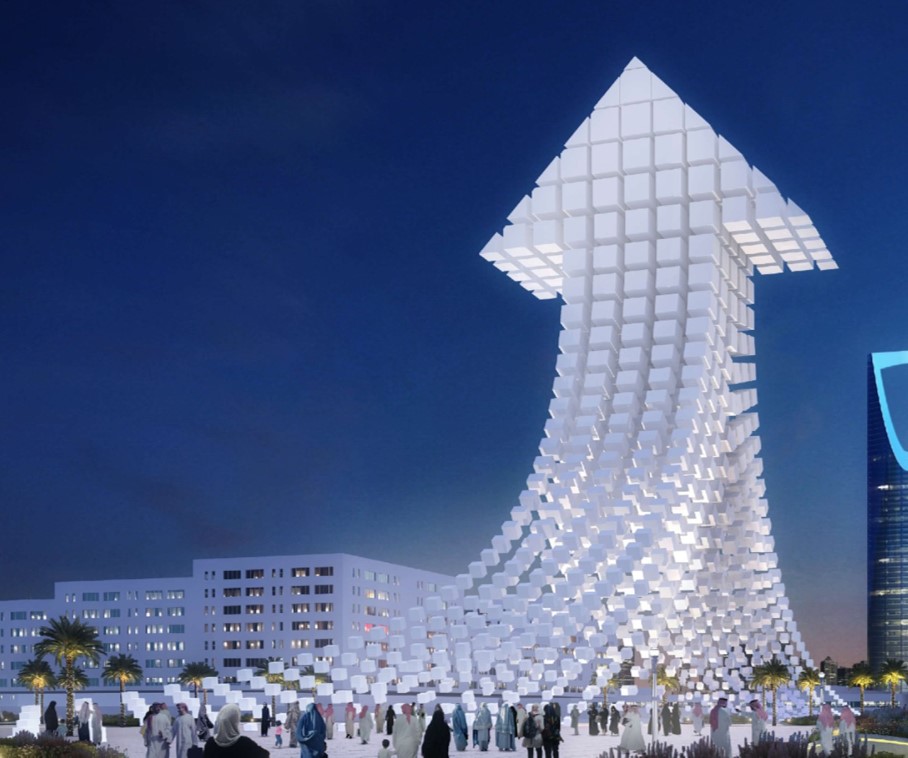 Riyadh Art is a project to bring art closer to the public eye through 10 interactive program plans.
Museums, theatres, and other collaborators will deliver more than 1,000 art pieces in public spaces. Under the initiative, works of artists from around the globe will be on bus stations, residential neighborhoods, city entrances, squares, and parks. Moreover, the city will also host art festivals every year.
King Salman Park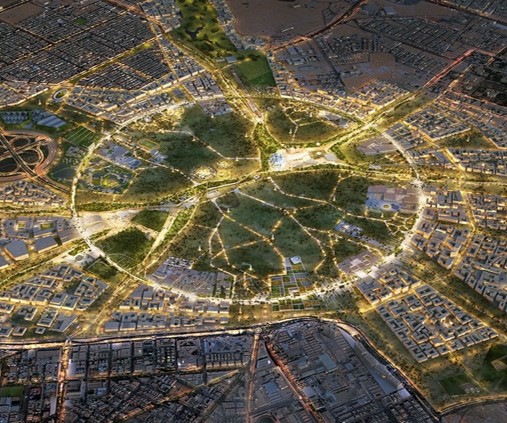 Expected to be the world's largest city park with an area of 13.4 square kilometers, King Salman Park will offer diverse entertainment options. Linked to the city's main thoroughfares, the area will have open squares, vertical gardens, and water features.
A national theatre, museums, galleries, an opera house, art academies, The Royal Art Complex, and a sports complex are included. The sports complex is due to feature an 18-hole golf course, a 50,000 sqm sports court, an equestrian center, and a skydiving center.
Sports Boulevard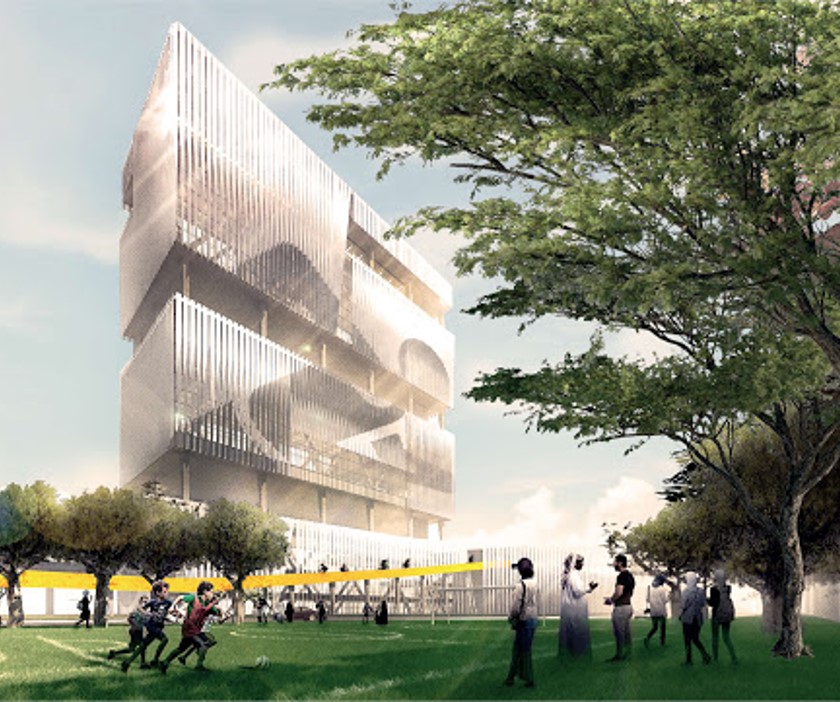 Sports Boulevard, which features 48 green spaces, will be the main health and wellness destination within the capital. The project will have a network of cycle routes including a 135-kilometer professional cycling track, jogging tracks, and horseback riding tracks. Additional features include event venues, movie theatres, outdoor museums, and show squares.
Makkah National Park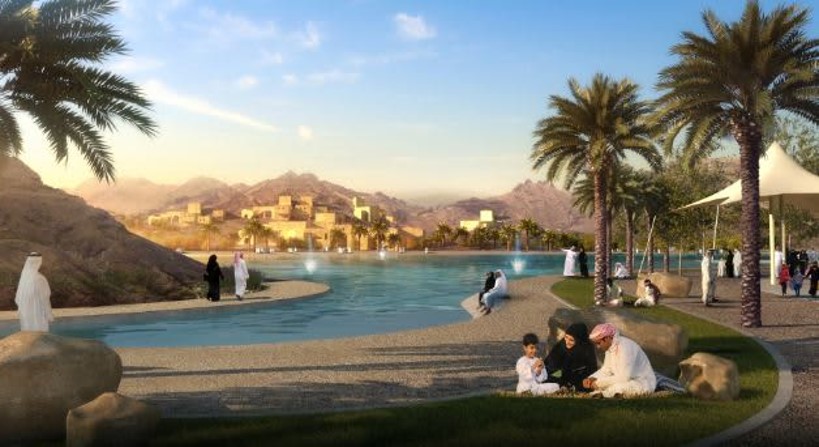 Makkah National Park aims to develop 14 million square meters of land in Makkah province. The development, which includes the Adlam Mountains, will feature a 31-kilometer walking trail and a camping area. The Park which can accommodate 100,000 visitors will also have a resort area, theme park, and sports area offering 42 activities.
King Abdullah Economic City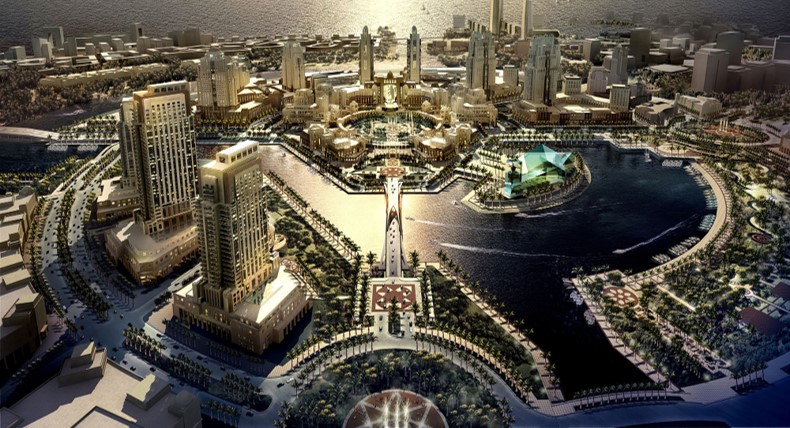 Started in 2006, King Abdullah Economic City's initial development cost was announced as $100 billion. The master plan included the development of industrial and residential districts and improving the facilities.
When completed, the city will have resorts and a Play District with two theme parks, a water park, a children's park, and a wildlife park.
A Golden Opportunity
With tourism being touted as the Kingdom's second most important industry after oil, Saudi Arabia's gigaprojects play a crucial role in creating a sustainable economy.
Commitment to core projects like NEOM and Qiddiya is crucial to achieving the Kingdom's goal of being in the world's top 5 destinations attracting 100 million tourists annually.
Despite difficulties brought by the pandemic, Saudi Arabia renewed its commitment to various entertainment projects under Vision 2030. The Kingdom's ambitions are staggering in size and vision, and if various facilities are operational by 2023 or 2024, as planned, the Kingdom is set to usher in a totally new era of tourism not only regionally, but worldwide.
---
For more in-depth knowledge on Saudi Arabia, be sure to check out our market reports:
Makkah and Madinah: The Potential of Religious Tourism